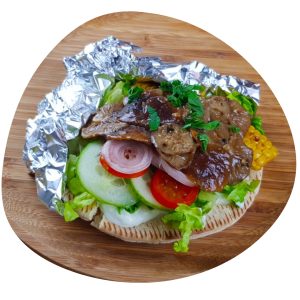 Pita bread with vegetables and mushrooms is an unusual and delicious combination that you will quickly fall in love with! The velvet-footed money mushroom, also known as enoki or velvet shank, is a delicate winter mushroom that you can collect throughout the winter and into the spring. It has a very pleasant mushroom taste, and a fine consistency that reduces cooking time, and pairs well with various types of meat and vegetables.
Not only is this recipe delicious, but it's also packed with nutrients. Enoki mushrooms are an excellent source of vitamins and minerals, including B vitamins, vitamin D, and potassium. They're also low in calories and fat and high in protein, making them a great addition to any diet. The addition of fresh vegetables and pita bread also adds a variety of vitamins and minerals to the dish, making it a well-rounded and nutritious meal.
As a memory of summer, you can prepare pita bread with fresh vegetables and fried enoki mushrooms. It's an unconventional combination that works for every palate. With quick preparation, great taste, and few ingredients, this recipe will entertain you both as a cook and as a diner.
SERVING: 2 PREPARATION TIME: 10 minutes COOKING TIME: 10 minutes TOTAL TIME: 20 minutes
Ingredients:
Velvet Shank Enoki Pita Bread Recipe
2 handfuls of velvet shank/enoki mushrooms, cleaned, and hats cut from the legs
2 pieces of pita bread
1 ear of corn cooked
1/2 small shallot
1/2 piece of salad cucumber
2 cherry tomatoes
4 lettuce leaves (Little Gem)
2 tablespoons thick Greek yogurt
1 tablespoon of olive oil
Spices (salt, pepper) to taste
Lemon juice to taste
Directions:
Prepare the mushrooms. Cut the hats from the stiff legs and wash them carefully.
Prepare the tzatziki. Put the yogurt in a bowl, grate part of the salad cucumber on a coarse grater, add olive oil, salt, and pepper, and sprinkle with lemon juice. Leave to rest in the fridge.
Fry the corn slices in a hot pan. Set aside.
Then fry the velvet shank in sunflower oil (you can also use lard or butter) for a maximum of 5 minutes.
Heat the pita bread in a dry pan or in a toaster. In the meantime, finely slice the lettuce and thinly slice the tomatoes, cucumber, and shallot.
Place the warmed pita bread on a folded sheet of aluminum foil, and spread the tzatziki on it. Then layer the salad and the rest of the chopped vegetables.
Sautéed mushrooms will come on top.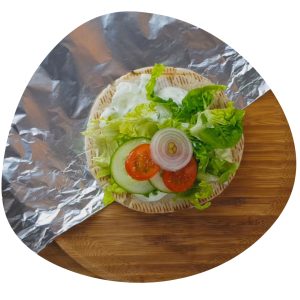 Note: You can slice and fill pita bread. In this case, I put everything on it, it's a matter of your tastes and preferences.
Nutrition Information per Serving:
Calories: 200
Fat: 10g
Carbohydrates: 25g
Fiber: 3g
Protein: 7g
"Want to learn how to identify velvet shank mushrooms? Check out our informative video and read our article for more information on this unique winter mushroom.
Velvet Shank Enoki Pita Bread Recipe