Read which ingredients contribute to the "superpowers" of this drink, what are the beneficial effects on the human body, how often to drink it, and try our proven recipe. The preparation will take you only a few minutes and your body will thank you properly for this elixir of health.
"Golden milk" or a milk drink with a good dose of spices is popular not only among fans of Eastern cultures (India in particular) but increasingly also among Western society. And it is justified: golden milk is not only excellent in taste, but it is also very beneficial in its composition. What does golden milk consist of, what are the beneficial components and how can you make it at all? We will talk about all this in today's article.
What exactly is golden milk?
Golden milk is a "magic" drink with a long history, dating back to ancient Indian Ayurveda. Golden milk is considered an elixir of health, thanks to its great ingredients, each of which has its place in helping with various health problems.
This is a warm drink that is most suitable for cold winter and autumn days. It is slightly pungent but very pleasant to the taste. I have been preparing it myself for several years and it is my favorite companion on colder days.
Golden milk can be prepared either from individual ingredients or to buy a pre-prepared ready-made mixture of spices.
How are the individual ingredients beneficial and why should you include golden milk in your drinking regime?
– is an antioxidant, helps regulate blood sugar levels, strengthens immunity, has an anti-inflammatory and prevention of neurodegenerative diseases. He also struggles with colds, fatigue, and disturbed digestion.
– contains curcumin, which is a powerful antioxidant. It has an anti-inflammatory, anti-cancer effect, improves digestion, strengthens the immune system, and regulates cholesterol levels.
-works against the flu and colds have anti-inflammatory effects, improve digestion, reduce blood clotting, normalizes blood pressure, and helps lose weight.
Black pepper

-improves digestion, dilates blood vessels, and thus promotes blood circulation. To some extent, it also helps in the fight against overweight.

Ginger

-helps maintain blood sugar levels, also improves digestion, and supports the proper functioning of the cardiovascular system.

Honey

-fights a variety of infections and kills almost all bacteria. It is therefore antibacterial, antiviral, and antifungal.

Ghee or coconut oil
-is added to golden milk because the drink contains a lot of fat-soluble vitamins. In addition, ghee contains vitamins A, D, E, potassium, magnesium, and iron, while coconut oil boasts zinc, iron, calcium, and vitamins K and E.
Turmeric and weight loss
Drinking golden milk can help you fight overweight. Turmeric relieves hunger, helps burn fat, has strong detoxifying effects, and also contains substances that contribute to the slower growth of fat cells. It is therefore clear that turmeric must not be missing from the reduction diet.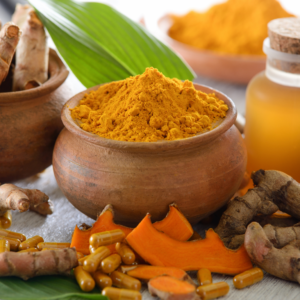 Fresh turmeric is the root and looks like tiny ginger with orange flesh. When modifying it, it is better to use gloves and an old kitchen board – the pulp is strongly colored. You can buy fresh turmeric in specialist shops and large supermarkets.
How often and when to drink golden milk?
As it is a hot drink, the best time to drink turmeric latte is autumn and winter. In addition, this part of the year gives up our immunity, so do not limit yourself and treat yourself to a drink every day. You can drink it in the morning and in the evening – in the morning to start the metabolism, in the evening to calm the mind and fall asleep easier. It's up to you.
---
Good to know: Although all the ingredients are beneficial to the body, they can be also harmful. Long-term use of turmeric can lead to indigestion, nausea, and diarrhea. Likewise, ginger must be used with caution, as excessive consumption causes flatulence or heartburn.
---
Golden milk recipe (turmeric latte)
1 cup milk (cow, goat, coconut, almond, etc.)
1 teaspoon ground turmeric (you can also use grated fresh turmeric)
½ teaspoon cinnamon
Z teaspoon of ginger
a pinch of cayenne or black pepper
½ teaspoons of ghee (in the case of the vegan version, use coconut oil)
1 teaspoon honey
Interesting fact: While black pepper is a well-known spice for us, which we use to taste meat, salads, soups, or sauces, cayenne pepper is actually a ground chili pepper.
Preparation
Pour the milk into the pot, add the spices, mix and slowly bring the milk to a boil. Then set aside, pour into a cup, and taste. If the turmeric latte is bitter, it needs to be boiled for a while. Then let it cool slightly and sweeten with honey. Remember that the drink must not be too hot so that the high temperature does not degrade the valuable substances hidden in the honey. If you want to avoid honey, use any other sweetener, such as a cane or coconut sugar, or you may not sweeten at all. Try what you like best.
Tip: Be careful not to spill golden milk on yourself or the carpet. Thanks to turmeric, it is deep yellow and your T-shirt would then get the same color.
Do you know golden milk? Do you like it? Or are you just getting ready for it? Describe your experience with the commentary.
If you are looking for other tips such as the Top 5 detox smoothies or you are interested in Mental health and more do not hesitate and watch #healthandnaturelife ♥ Health and Nature Life ????