In recent years, a lot of fans have attracted the cultivation of sprouts, or germination of seeds. Sprouts can be prepared from a variety of seeds, such as mung beans, lentils, peas or radishes, or alfalfa seeds. They are packed with enzymes that have a beneficial effect on digestion, but in addition to being easily digestible, they have many vitamins. However, the cultivation of so-called micro-vegetables is also coming into vogue. At the same time, you can easily grow such vegetables in the apartment and you can enjoy their unique taste and health effects. How is it different from sprouts, how to grow micro-vegetables, and how to include them in the diet?
What are these mini vegetables actually, what are their benefits, and which ones to grow at home?
Microgreens, represent young shoots of vegetables or even some kinds of herbs and flowers. These shoots are usually harvested at a height of about 6 to 12 centimeters. Thus, plants are grown only when they have the first basic leaves or the first real leaves. They are distinct in taste and freshness. It is necessary to distinguish micro-vegetables from the mentioned sprouts. Although microgreens are a kind of older sibling siblings, they are two different types of food.
Sprouts are consumed at the time of germination, microgreens are already a plant in development. The sprouts can be grown in a few days, the micro-vegetables need to develop and therefore grow, the stems and primary leaves, usually a few weeks (approximately 2 weeks). You will also find the difference in the method of cultivation. We only grow sprouts in a humid environment and they are usually soaked in advance for some time. Microgreens can be grown in various ways, often directly in the substrate, but also in water or cotton wool.
Thanks to microgreens, everyone can have their own garden at home and easily grow micro herbs at any time of the year. Plants at this stage do not need any special fertilizers or demanding cultivation skills. The most popular species include peas, radishes, mustard, and broccoli.
Why try it with microgreens?
Microgreens have many advantages that make them worth growing. Growing microgreens is primarily safe because the plants grow in the air. In contrast, sprouts are classified as medium-risk foods of plant origin.
It is necessary to be careful when growing sprouts, as especially high humidity and other factors can contribute to the development of fungi and the growth of pathogens. In addition, micro-vegetables are really easy to grow, they do not require much attention or space, so they are ideal for growing in a smaller apartment.
In short, growing a micro-vegetable does not require a garden or a larger balcony. However, even in this undemanding way, it is possible to grow a very healthy food full of important nutrients, which is welcome in every menu.
We attribute several advantages to Microgreens that make them worth trying:
Thanks to microgreens, you give your body a lot of vitamins, elements, and nutrients in their original form, without any chemical additives. They are also a great antioxidant. Minerals are microgreens rich in potassium, iron, zinc, magnesium, and copper. Of the vitamins supply mainly the necessary vitamins A, B, C, and K.
Microgreens have a high protein ratio, especially legumes. From microgreens can prepare an inexhaustible number of dishes and supplement many dishes with them, thanks to their diverse tastes. You have Microgreens at hand in their freshest form, you can simply store them in the freshest after harvest, like ordinary vegetables.
Microgreens are full of vitamins
 Consumption of microgreens strengthens immunity. Thanks to vitamin A, microgreens prevent an increase in the tendency to inflammation.
Vitamin B helps the proper functioning of the nervous system and helps healthy skin solve various skin problems and eczema.
If you want to suppress the flu, Vitamin C is an excellent dietary supplement, which also helps to reduce chronic inflammation.
Vitamin K is important for proper bone-building or proper blood clotting.
Potassium is responsible for a regular heart rhythm, allows muscle movement, supports digestion.
Iron deficiency leads to a feeling of exhaustion of the pounding heart and headaches.
Magnesium is one of the most important elements in the body, reducing fatigue and exhaustion.
Zinc is a trace element that contributes to the normal function of the immune system, maintains the normal condition of eyesight, hair, nails, skin, and bones, as well as contributes to healthy fertility.
Growing in the comfort of home
 You can grow microgreens at home. All you need for the harvest is that the plants have enough light, air, and water. You do not need any fertilizers (but you can add them).
Vegetable harvesting depends on the type of microgreens and is usually around 6 to 21 days. You can grow micro plants at any time of the year.  Enjoy your own vegetables full of vitamins even in times of freezing and lack of quality vegetables in retail chains.
If you grow microgreens at home, you will avoid the fact that the plants often have to travel to you throughout Europe. This brings complex logistics, packaging, and energy. At home, you have 100% supervision over your own production.
Read the short fun story of our little sunflower 😊
The great taste of microgreens
 The taste of microgreens fully replaces adult fruits or vegetables. The most popular variations of microgreens include the already mentioned radishes, broccoli, peas. Furthermore, arugula, coriander, sunflower, and mustard. Legume seeds are very popular, thanks to their growth, great taste, and the plants just look great.
What recipes will you fall in love with?
 Microgreens are a great flavor for sandwiches, tortillas, burgers, and pizza. You can prepare very popular pesto or guacamole from them. It is a great part of pasta, rice, hot and cold
 salads. Roasted vegetables or meat. Great for supplements with cheese. The vitamin bomb is then a smoothie with microgreens. You can add microgreens to your favorite broths or vegetable soups. Omelets with microgreens are a favorite or they are a great healthy decoration of canapés and ordinary savory dishes.
 Microgreens can easily be stored in the iceberg or in another cool, dark place after harvest. It is important that the vegetables are dry. However, you can harvest your microgreens gradually and always use only as many vegetables as you need, harvest them, and let the rest grow for a few days.
Hit by catering around the world
Microgreens are a big hit in the diet in America, Southeast Asia, New Zealand, and Australia. It is a cheap, tasty, and healthy alternative to home-grown vegetables simply at everyone's home.
Explore our e-shop with fresh microgreens and try out many different variations. Our vertical farm is located in the UK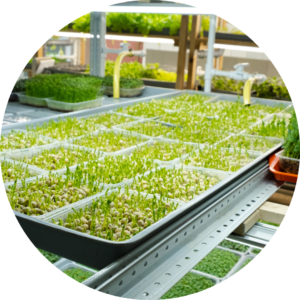 Micro-vegetables contain 4 to 40 times more vitamins and minerals compared to adult vegetables. We were very surprised by this discovery.

University of Maryland College of Agriculture and Natural Resources (USA)

Forget about iceberg lettuce. Micro-vegetables are the latest necessity for top chefs.

The Guardian (UK)

Micro-vegetable salad! +1 smartpoint

Oprah Winfrey (USA)
Do you want to grow microgreens?
 No unnecessary plastic or transport waste is generated when growing vegetables at home in reusable containers. Plus, you always know what you're eating. A home garden with microgreens is an easy step to a fresh quality diet whenever you remember.
5 most popular microgreens for growing
1. Radish
Radish is the easiest microgreens to grow. Even eternal housekeepers will be able to grow radish microgreens.
The first tasting will surely surprise you – the micro radish is strikingly reminiscent of the radish itself. Their green-red color will highlight every meal.
2. Broccoli
Broccoli is one of the easiest plants to grow. In fact, this microgreen grows so fast that it can be ready to eat in just 6 days!
Growing broccoli is very similar to growing radishes, but there are a few differences. Broccoli has no color variations like radish. There is also a significant difference in taste between them because broccoli microgreens could be compared to the taste of fine cabbage. In contrast, radishes have the typical spicy taste of adult radishes.
3. Sunflowers
Sunflower microgreens are very popular and we can personally say that they are our favorites. They have a pleasant nutty taste, are juicy and crunchy. It differs significantly from previous plants both in its appearance and distinctive taste.
4. Peas
Pea microgreens are surprisingly healthy and easy to grow. With a little training and effort, you'll have your own supplies of this delicious microgreen all year round! Peas will serve as a beautiful garnish for an omelet or as a tasty salad supplement.
5. Red cabbage
Red cabbage is also easy to grow. Although it does not grow as fast as the first two microgreens mentioned above, you can still harvest it 14 days after planting. Cabbage microgreens even have several species. We recommend using the Red Acre variety, for example.
Did you like this article? Here are some posts that might interest you:
Fresh herbs – how to grow them, and what are their benefits
Social anxiety signs causes and how to deal with social anxiety
White noise a miraculous white noise puts every insomnia to sleep
Turmeric grows spices with healing effects as a houseplant