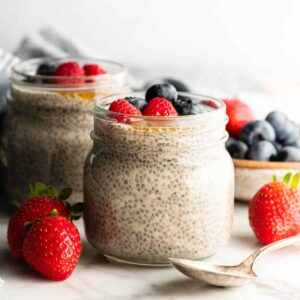 After, a lot of work when we haven't enough time for making a snack for myself and even for family and especially for our kids. Then we go out outside, having a snack or something. However, if we gave there a paltry amount of time to make a snack it will be better. After all, a homemade recipe is good for your health. Chia pudding will be a good option for here. It won't take much time to make it. You can store it by freezing. It has a good amount of protein, fiber, calories, omega-3s. it will be your healthy snacks in breakfast or even afternoon.
So, lets to go making the procedure of a chia pudding recipe.
If you haven't tried this healthy snack, you miss out on the taste of a good snack. Now time to taste a chia pudding recipe. The chia seeds come well packed with a good amount of nutrition. See all the benefits and nutrition charts of chia pudding.
There are a lot of recipes for chia pudding. But if you are a chia pudding newbie, I recommended you try this simple recipe. It will be an outstanding recipe because you will get their real absorption power and the gel-like texture of their ability to keep you full.
Making procedure (3 simple steps)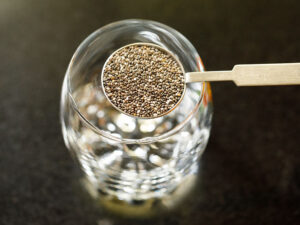 Making a chia pudding recipe is too much easy than you ever think! Before starting, you have to be of excellent quality with enough amount of chia seeds. The Frist step is stirring together your chia seeds and liquid milk in a jar or a bowl. In 3 Tablespoon, chia seeds mixed with 1 cup of milk. Desiring your thickness of chia pudding, you can add 4 Teaspoon seeds in 1 cup of liquid.
After mixing chia pudding, let it rest for 5 to 10 minutes and then shake it. Do it twice or more. If they're a clump of seeds, then break it and mix it properly. Then store in the fridge to set hours 1-2 or overnight.
Chia pudding should be nice and thick, not liquid. If it isn't just thick as your desire then you can add some extra seeds and refrigerate it for again 1-2 hours.
More chia pudding recipe
Berry chia pudding
Candy chia pudding
Chocolate chia pudding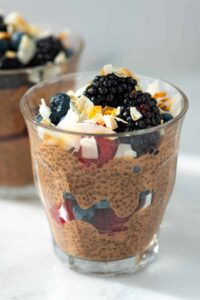 Chia pudding ratio
After I finished other different ways to make a chia pudding, I've found that 3-4 tea teaspoon chia seeds with 1 cup of liquid are best for perfect consistency.
For consistency, it's totally up to you based on your preference and dietary restriction. Instead, you can use almond milk, coconut milk, cashew milk. It can give your chia pudding an extra creamy consistency that looks nice. It would be better for breakfast, snacks, or even dessert if you use full-fat canned milk. It is also helpful for you if you follow the keto diet or paleo.
Chia pudding Tips:
If you see your chia pudding doesn't set properly or turn out correctly, probably a few things go wrong. Here are some tips that will be helpful for you.
First, make sure you have the right chia seeds, not like other types of chia seeds. In the market, you can find white and black chia seeds. Those both are well for making a perfect chia pudding. Not other chia seeds will work. Before you purchase check the expired date. Is it old or new? It's also important. Many people are complaining about Trader joe's chia has not properly absorbed the liquid like the other brands. If your problem is with Trader joe's brand, then switch to another brand.
Make sure you have a good stir while mixing these. Mix it up to 5-10 minutes. It will help break the clump of chia seed and give you a smooth texture and well mixed. If you didn't do it properly, sometimes all chia seeds are clump in the bottom, and it will leave you with lots of liquid at the top instead of a well-combined creamy pudding.
By doing all those things, you saw your chia pudding isn't enough thickness, then you can add some extra chia seed for change. Or you can use thicker milk. Full-fat canned coconut milk will give an ultra-thickness, creamy consistency to your chia pudding.
As you desire, if you don't like the texture of chia pudding, you can blend it with the machine. After finished, your chia pudding will smooth instead of normal pudding.
Health aspects of chia seeds
One of the biggest questions I get from my readers is what to eat for a snack or desert? I also liked to check 3 things when it comes to snacks:
High fiber: Good for control blood sugar, cholesterol levels and better digestion.
High proteins: Good for muscles.
Healthy fat: Omega-3's. To feel more energetic.
In chia seeds there are a lots of health benefits. They have a good number of antioxidants, fiber, calcium, magnesium, fats like omega 3's. That means its better for digestion and great for health. It also helps for control blood pressure and sugar levels.
Did you make this recipe?
Please let me know how it turned out for you! Leave a comment below and share a picture on Facebook & Instagram with the #healthandnaturelife.