Recently I shared a photo on Instagram about matcha chia pudding. You guys have requested to me, make this recipe in my blog. Then I decide to make this recipe for my subscriber. So yesterday, I made this exceptional recipe. Now I'm sharing it with you.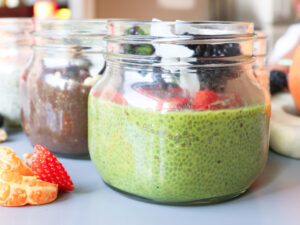 Matcha green tea provides you sustain energy like coffee. In chia seeds, the healthy fiber and fat keep you satisfied in the morning. It could be your daily healthy snacks. Along with chia seeds, you can take some fruits to make this snack special.
Making chia pudding isn't hard as you thought. Do properly all things and refrigerate them 3-4 hours or best for overnight. Wake up in the morning and get a substantial breakfast.
Have you tried chia pudding yet? Chia pudding is a new concept. But for its deliciousness, it becomes much popular all over the world. If you love matcha, check out my other gluten recipe.
What is special about pudding?
In matcha chia pudding is perfect for those who have an allergy to fruits or are vegan. They can take by willingly.
Chia pudding Abound with high protein, good fat, and it will be your ideal breakfast.
This matcha chia pudding gives you the taste of a boost of a coffee.
In fact, the surprising thing is you don't have to do anything. It will automatically be ready when you are asleep. After waking up gets an excellent breakfast.
More chia pudding recipes you might like
Ingredients:
Non dairy milk
Honey or sugar
Shredded coconut
Chia seeds
Matcha green tea power
Toasted silver almond
Recipe step by step
Step1: Add some chia seeds to a container
Step2: then add matcha green powder and sweetener as you like

Step3: pour it into your non-dairy milk. Mix it well
Step4: tie with wrapping paper and put it into the refrigerator

Step5: remove It after 4 hours or the next morning. And enjoy!
Top with granola, shredded coconut, berries, honey, or anything you like!
Health benefits of matcha chia pudding
Chia seeds: chia seeds come with a good amount of fiber, good fat, and calories. It also keeps refresh your body and feel satiated. It has Full plant-based protein. And control your blood sugar, cholesterol level, etc.
Liquid: use Full fat canned milk, non-dairy milk, or almond milk. I prefer to use almond or non-dairy milk with no sugar. Both are great options. I find that some dairy milk has already added sugar. Please away from this if you have already diabetes.
Matcha powder: matcha powder comes full of anti-oxygen and vitamin c. Naturally, it tastes like dark chocolate, and you might feel the taste of dark coffee. The anti-oxygen will refresh you and give you extra energy.
Do more with Chia Seed
You can do an egg replacement recipe with chia seeds. Just 3-4 teaspoon chia seeds mix with 3 teaspoon water, let it sit for 10 minutes, and you have a nice chia egg.
If you ever didn't try chia seeds, I suggest you make this recipe today and share your experience with us. Leave feedback in the comment below.
Click here to see all the pudding recipes on the healthandnaturelife.
Notes:
The perfect time for making chia pudding is before you go to bed. In that time, it will be ready for your breakfast.
You can use black or white chia seeds but don't use ground chia seeds.
To make this recipe try to use non-dairy milk. Therefore, if you're vegan, then you can use any dairy milk.
We hope you liked our recipe share it with your friends. Tune to our Instagram and follow the Facebook page.