Remember our childhood? Most of us liked chocolate most. Getting adult the amount of chocolate eaten has decreased, but we still love to eat chocolate now! Celebrating an occasion without chocolate, we can't think about it. I am a creature of habit! When I love to do a thing, I do it again and again. Then it becomes my habit. This is especially true for breakfast.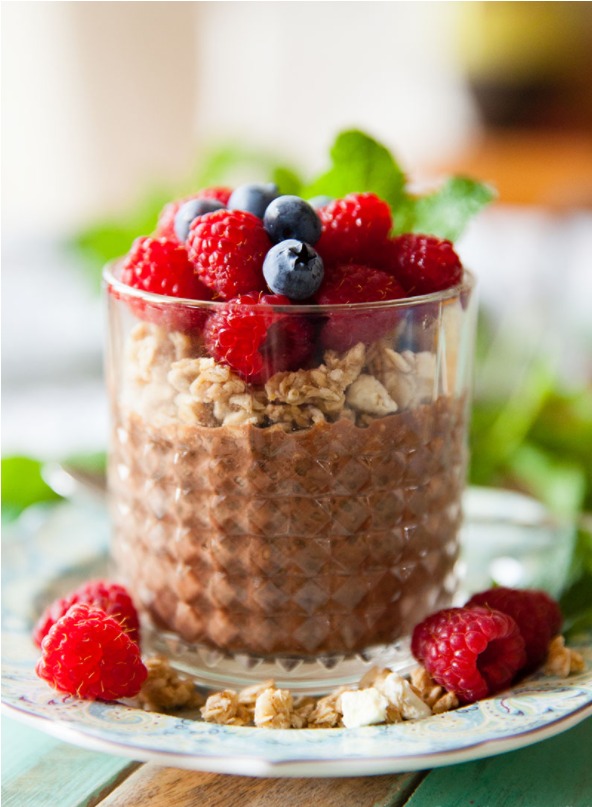 Looking for a perfect breakfast with a good nutrition chocolate chia pudding will be your best choice. If you are a chocolate lover, chia pudding with dark chocolate will surprise you. I mean to say that it comes with fiber, calcium, protein, fat, etc. it tastes like tapioca powder. It melts in your mouth and it's creamy and rich. I would prefer to take chocolate with chia pudding will much better and healthier.
Chocolate chia pudding Why do I especially love this?
The chocolate chia pudding is a little different from the chia pudding recipe on healthandnature because it's blended. This recipe of chocolate chia pudding is more delicious than the other pudding recipe, and it's also vegan and naturally gluten-free. It is the go-to turnaround for many reasons!
Recently I made this recipe with double batch dark chocolate. So believe me, you can enjoy dinner or maybe even breakfast!
More chia pudding recipes you might like
Berry chia pudding
Candy chia pudding
Ingredients (for 3 persons)
1 cup vanilla almond milk with no sweetened
6 tablespoons chia seeds
1/3 cup honey or sweetener of your choice
1/10 teaspoon salt
2 tablespoons cocoa powder
1 teaspoon vanilla extracts
Add extra: fresh raspberries, chips, nuts
Didn't you try this chocolate chia pudding! Let's try today. Be sure to leave a comment and letting us know how it turned out. Your feedback is important to our team and other healthandnature readers.
Making procedure step by step (4 simple steps)
Step1: Use any jar that contains at least 500ml or up.
Step2: Add chia seeds, maple syrup, vanilla extract, cacao powder, salt, almond milk mixes the ingredients in the order listed in the recipe. All the ingredients blend with a high-power blending machine. Blend it until all chia seeds are dissolved, no lumps are seen.
Step3: Let the pudding rest for 10 minutes. Then blend it again. This time your pudding will be much smoother than other times. Now it's time to go ahead with important doing.
Step4: Close the jar with lids. Then refrigerate it for a minimum of 3-4 hours. Just let it soak in the refrigerator.
Tips:

To avoid lumps: concern it when blending it. If you notice any glimpse of air is visible, granulate remove those and blend them again until all thins are ok. Sometimes it may happen if you don't properly refrigerate it.
Thickness: depend on the thickness of chocolate chia pudding is upon yourself. If it's too much, then add some milk and notice the thickness it's a ratio.
Topping ideas: chips, nuts, blueberries, raspberries.
Pro tips:
If you like the chia seeds full of nutrients but don't like the chia seedy texture, try to blend it properly.
Notes:
Use any plant-based milk. To make sure it's unsweetened.
The maple syrup I use in this recipe is keto-friendly.
Diabetes people avoid the sweetened part of the recipe.
Nutrition facts
| | |
| --- | --- |
| Carbohydrate | 50gm |
| Calories | 543gm |
| Protein | 17gm |
| Sodium | 210mg |
| Fiber | 30gm |
| Sugar | 15gm |
| Saturated fat | 5gm |
| Potassium | 424mg |
| Fat | 25gm |
| Iron | 8mg |
We hope you liked our recipe share it with your friends. Tune to our Instagram and follow the Facebook page.