Chia seeds will make a portion of good and healthy food for your family. Chia seeds originated In Mexico and the southeast between 1600 900 B.C. This has been used extensively in ancient times. In all the recipes of chia seeds, the cookies recipe is different for its specialty. In the other recipes of chia seeds, you guys have requested I make this delicious cookie recipe.
You will love this recipe!!!
Chia seeds are load with full of nutrients and antioxidants. Many people don't like the chia seeds for their seedy texture when they add them to chia pudding or smoothies especially, our kids. Kids are always like crunchy snacks. Chia Chocolate cookies there will be a good option. These cookies are so soft and crunchy. I also made a gluten-free version of this recipe. Classic ingredients combined feel test like DELICIOUS. You can also add peanuts to increase deliciousness. Try This recipe at your party today! ENJOY my friends!!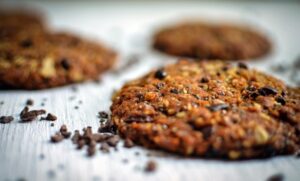 More recipe you might like
Berry pudding
Ingredients:
1 cup oats
1 cup almond flour or use any kind of gluten-free flour
1 tsp chia seeds
½ cup maple syrup or honey
1 cup chocolate chips
½ cup baking soda
½ cup baking powder
1 tsp vanilla extract
1 cup peanut butter
½ Melted coconut oil
½ tsp testing salt- for taste adjustment desire to upon yourself
Instruction (step by step)
Preheat oven at (160°c) or 360° Fahrenheit with peppermint paper into a tray and set aside.
Take a bowl. then add almond flour, oats, flax seeds, chia seeds, baking powder, sprinkle salt, Cinnamon. Whisk this all together until it's well combined and well set aside.
Take another bowl to make a wet combination. Add banana with a smash, almond milk, maple syrup or honey, vanilla extract, peanut butter, and melted coconut oil, mix it properly until it's combined.
Mix dry ingredients into the wet ingredients and combined them again. Repeat this process.
Once it is all mixed up and let the dough sit for 4-5 minutes.
NOW it's time to shape your cookie on the tray in lines. You can shape your desired as you like and try to use your hands for perfect shape cookies.
Baked it for 12-15 minutes until slightly cracked on top and lightly brown all over
Remove tray from the oven and let it cool into the air for 2 minutes.
ENJOY your cookies!
Tips
You can store cookies in an air-tight container for 2-3 months. Make sure to select a place away from direct sunlight and wet-free.
Pro tips
Do not over bake. Try to use all ingredients quantitatively. How much salt did you use should be kept in mind?
Notes
Use sweetener as your desire. Those who have diabetes try to avoid the sweetening parts.
Nutrition charts
| | |
| --- | --- |
| Calories | 151kcal |
| Carbohydrate | 15g |
| Cholesterol | 23mg |
| Fiber | 5g |
| Iron | 1mg |
| Sugar | 8mg |
| Calcium | 36mg |
| Protein | 2g |
| Sodium | 125g |
| Vitamin A | 205IU |
| Omega 3 | 6g |
We hope you liked our recipe. Share it with your friends. Tune to our Instagram and follow the Facebook page healthandnaturelife