Bear's garlic belongs on the plate just for its charming name. Although its green leaves look like they belong to the lilies of the valley, their scent will easily convince you that they have nothing to do with this poisonous beauty. If you've ever walked into a forest and been greeted by a delicate scent of garlic and green bear carpet, you know where to look. And if not, hurry to the farmers' markets.
How to use wild garlic
Then, when you bring it home, wash and take it thoroughly. Pay special attention to beetles and small snails, you are not the only one who is eminently interested in these leaves. You can use it for pesto, salad, cream soups, and dry it as a spice, it depends entirely on you. Bear garlic can be consumed both fresh and cooked.
TIP: Since it is a fresh herb, when cooked try not to let it boil unnecessarily long, to preserve its fresh garlic scent and beautiful green color.
Recipe for an amazing Risotto with wild bear garlic:
Raw materials- 2 servings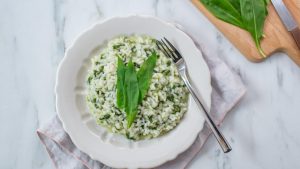 1 tablespoon olive oil
1 shallot or small onion
100 ml of white wine
250 g risotto rice (arborio, carnaroli, or at least short-grain rice)
about 750 ml of hot vegetable or chicken broth
100 g bear garlic
200 g young peeled peas (frozen)
3 tablespoons grated parmesan cheese
1 tablespoon butter
Method:
In a larger pan, simmer the finely chopped onion in warm oil to soften it – but do not let it brown.
Add the rice and partially stir fry with a wooden spoon. Once there is a risk of burns, cover with wine and stir until everything evaporates and soaks into the rice.
Add one large scoop of hot broth and continue to stir in a strong flame until liquid is visible in the pan. Then pour in another scoop and continue until you have consumed the broth and the rice softens to a bite, it takes about fifteen minutes. If you consume all the broth and the rice is still not soft enough, you can then add a little hot water.
Wash the wild garlic under running water, cut several times, and add to the almost finished risotto. Stir and let the leaves heat and soften for a while.
Finally, stir in the butter, two tablespoons of parmesan cheese, and thawed peas. Season with salt and pepper.
Let the finished risotto stand outside the hot plate for one to two minutes, then divide between plates and sprinkle with the remaining parmesan cheese.
Interesting video recipe for Wild garlic Risotto.
Delicious bear garlic pesto:
What you will need:
Bunch of bear garlic
Parmesan cheese
Olive oil
Salt and a pinch of pepper
If you like, you can also add nuts (walnut, pine, cashew, etc.).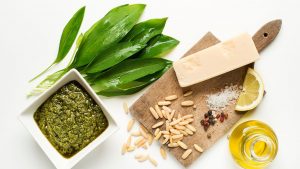 Method:
We put all the ingredients in a blender and mix them smoothly. Gradually add olive oil, parmesan, and salt according to taste and consistency.
Pesto which is prepared in this way, if you pour oil on the top it properly, it will last you a long time in the fridge. But it disappeared from our fridge in two days. You can just have it on toasted bread or maybe mix it into pasta.
And if you don't want to make pesto, spread bread on butter, salt it and chop the bear's garlic leaves just on the bread.
So let's go to the kitchen!
Watch the video how to make a wild garlic pesto.
Try something extra healthy
Elixir of Youth – wine with wild garlic
It is said that after forty we should eat wild garlic daily. No wonder bear garlic has many positive effects on our body. And the wine? We all know that, in small doses, it's a cure.
Ingredients:
1 l of white wine
2 cups chopped bear garlic
3 tablespoons honey
Method:
1. Pour the wine into a pot and heat it to 80-85 ° C, it must not be boiled!
2. Pour chopped wild garlic into the hot wine, cover, remove from the hot plate and let macerate (infuse) for 48 hours.
3. In two days, pour through a colander and sweeten the pure flavored wine with honey
4. Pour into the bottle and drink 1 dl of wine every other day as an elixir of youth.
Note:
In the fleshy leaves of bear garlic, there is a real wealth of many vitamins, especially C, minerals, antioxidants, flavonoids, sulfur compounds, and essential oils as in garlic.
If you liked this post, we will be happy to hear from you in the form of a comment or share. Thank you and we appreciate your confession.
Read more:
Spring herbs and their benefits
St. George's mushrooms- one of the first mushrooms of the year
Grow your own fresh herbs at home